♪Sex and the City: Music From the Original Motion Picture
"I curse the day you were born!"
If you know that line, then you, my friend, are a fan of this movie and FAB-ulous show. (Can you tell that the Fit Bottomed Girls are fans, too?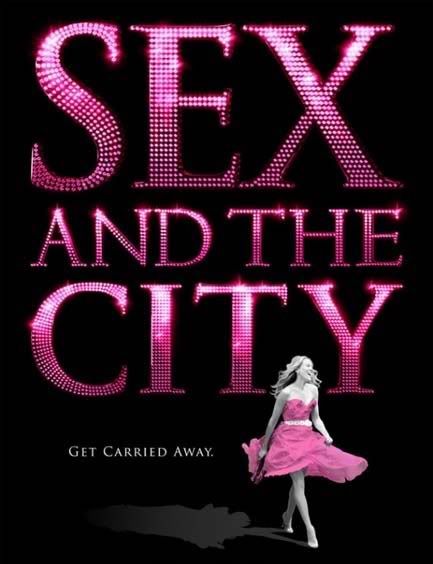 Because I wanted to dance wildly, channeling my inner Fergie Ferg, er, I mean find new tunes to run to, we have chosen to review this CD for its workout-ability and general awesomeness. With a play time of about 55 minutes, the soundtrack delivers a number of tunes for whatever activity you're doing (biking, driving, sleeping, Samantha-ing, you know, whatever).
The Track List: Sex And The City, Music From the Original Motion Picture
1. Labels or Love, Fergie—This is basically the song of the movie. It's fun, it's upbeat, and it's high-energy. Perfect for interval work or keeping your pace up. Listen for Dr. Fergie's advice on men: "Don't cry. Buy a bag, and get over it," and her subtle femininity: "I'm do this damn thing. Watch me do this damn thing."
2. All Dressed In Love, Jennifer Hudson—This Motown throwback is a fun one. It has a good steady pace and will definitely bring back memories of the SATC movie you saw once, or twice, or four times in the theater.
3. The Look Of Love (Madison Park vs Lenny B Remix), Nina Simone—This remake has a good techno beat to it, so it's good for a mid-tempo pace or as recovery when you're getting your sweat on. I recommend it on the elliptical because Nina Simone is as smoooth as your stride.
4. New York Girls, Morningwood
—This song should be added to the
Girls Rock Playlist
. It's really,
really
fun, and ideal for any high-energy movement. My favorite part is in the middle where they want you to tell them "where you're really from!" I always shout out my hometown, just for good measure. This is the one song I got caught singing loudly and car dancing to while in traffic one afternoon. I couldn't help it.
5. All This Beauty, The Weepies—This is a lover-ly song. The Weepies are such a soothing band, and this tune delivers ultimate upbeat chillness. I like to use this one as an A.M. workout warm-up, as it talks about watching the sunrise.
6. I Like The Way, Kaskade—Here's another techno song that works well for mid-tempo work. Kaskade likes the way "you move," so let the words inspire you.
7. It's Amazing, Jem—This song reminds me of Dido's sound a bit, but it's more upbeat. It's a perfect song to walk or jog to. During this song, do some positive self-talk by reminding yourself how "amazing" you are. And follow Jem's good advice to never give up.
8. How Deep Is Your Love, The Bird & The Bee—This is a very endearing song. Not my top pick for cardio, but perfect for a cool down or stretching. Every time I listened to it, I always started thinking of Carrie and Big. I really need to get a life.
9. The Heart Of The Matter, India.Arie—You'll recognize this Don Henley remake from the very beginning. Feel free to sing along to Arie's version. I recommend picking up your pace as the chorus approaches and slowing back down during the verses.
10. Auld Lang Syne, Mairi Campbell & Dave Francis—I really, really tried to like this one. And it is pretty, but I just couldn't get into the slow Scottish sound. If you're a fan, make it your cool down.
11. Kissing, Bliss—This is a beautifully sexy song. Another top pick for a cool down or hatha yoga or, better yet, your wedding night.
12. How Can You Mend A Broken Heart, Al Green featuring Joss Stone—It's hard to go wrong with Al Green or Joss Stone. Talk about S-O-U-L. This one starts out slow but builds in speed, so don't be afraid to use it during your regular workout.
13. Walk This Way, Run-D.M.C. featuring Steve Tyler and Joe Perry of Aerosmith—Everybody knows this one, so get out your gold chains and start rapping. It's perfect for high-tempo cardio or weight lifting.
14. Sex and the City Movie Theme, The Pfeifer Broz. Orchestra—This is the big-band version of the TV theme. Crank it, and do high-kicks or walking lunges with kicks. Or strut around in Manolos (or for me, knock-offs). It's a perfect way to end the CD.
Overall, this CD does have an abundance of low- to mid-tempo songs that are good for cool downs or light cardio days, but the high-intensity ones are fabulous enough to make up for it. If you're a fan of the show, or just good music, the FBGs highly recommend it. —Jenn
Bonus! If you need more of the Fergmeister (and really, who doesn't?), check out the making of "
Labels or Love
."
Need more workout tunes? See how Britney's and Madonna's latest CDs stack up.