Billy Blanks: Tae Bo: Amped Fat Burn Accelerator
My first Tae Bo experience was in high school. My dreamy boyfriend's mom let me "borrow" her freshly ordered-from-TV advanced Tae Bo VHS tape. I'm sure by lending it to me she expected to get it back, but I just checked and it's still in my basement. Ahem, 12 years later. Whoops. Forgive me, Mrs. Davis?
Remembering that stellar workout, I recently rekindled my relationship with Billy. After those 12 long years I have to report that BILLY LOOKS EXACTLY THE SAME. It's amazing. His hair is the same, his clothes are the same, and the set design and music are still the same. In fact, his workout posse pretty much looks the same, too, minus a couple of fitness-model blondes who have been traded out for normal-looking brunettes.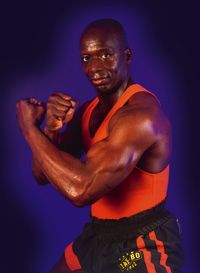 The DVD name is quite the mouthful and punctuation tutorial on colons,
Billy Blanks:Tae Bo: Amped Fat Burn Accelerator.
I guess when you have a fitness empire with loads of DVDs in your name, you have to get creative with the titles. The DVD is about 50 minutes long and features mostly cardio moves with a few strength moves such as squats and tricep kickbacks using the "amplifier." The amplifier is basically a glorified stick that extends. Unfortunately, the addition of this stick, or schtick if you will, is the only "new" addition to Billy's moves.
Despite being a spiced-up repeat of the punch-and-kick combos from my stolen 1998 tape, the DVD is a good workout, and it got me and Billy sweating. (Boy, does Mr. Blanks sweat.) However, there's a lot of counting to eight followed by, "Now everybody jam!" or "Get amped!" When Billy says that,everybody speeds up their movesto a psycho speed that makes it impossible to have correct form. Back in the day he called this "double time," but I think he's taken the speed to quadruple heights. And one of the girls is constantly screaming at Billy "yes, sir!" which is just weird. I'm for enthusiasm and all, but girlfriend is a bit too intense for me.
BB is good about giving alignment cues and showing how to makes the moves easier, which is awesome, but toward the end he falters a bit and seems confused. Maybe Billy does age…

FBG Rating (Out of 5):
Instruction: ★★★
Long-Term Likeability: ★★★
Music: ★★
Fun Factor: ★★★
Meets Expectations: ★★★
Overall: ★★★
Fit Bottom Line: Tae Bo and Billy's look haven't changed over the years, so don't expect new moves. However, it's still one amped up sweat fest. —Jenn
Want more reviews? Read the Fit Bottomed Girls'
new release reviews
and
retro reviews
. For more on how our ratings are determined (it's not a science, but we do have some method to our madness), read our
review criteria
.
Photo grabbed from
www.photobucket.com
; http://static.squidoo.com/
.