FitLit: Skinny Bitch in the Kitch
Much to Chef Jenn's dismay, I don't love to cook. I don't even really like to cook. But I do it because a girl's gotta eat, and I can follow a recipe like nobody's business. Because of those recipe-following skills, I somehow got suckered into reviewing a cookbook. A vegan cookbook.
Now, I didn't read the original Skinny Bitch by Rory Freedman and Kim Barnouin. But they do sum up their philosophy in the introduction of their second book, Skinny Bitch in the Kitch. It basically talks about how horrible animal products are for "you bitches" and how humans are the only species to drink another animal's milk. We're also the only species to go to the moon, but I don't want to start a fight. And what about cats? They love milk.
Don't get me wrong, I am sooo not against people choosing to be vegan. Or vegetarian. I just don't like being insulted for enjoying the occasional animal product. I actually frequently cook vegetarian meals and have sworn off meat for days at a time (my first stint with vegetarianism was after a state fair). But I find that it's just not something I can swear off forever, and YES, I FEEL TERRIBLY GUILTY. Some people think the Skinny Bitches are hilarious, but I didn't love being berated or called names.
I did put my hurt meat-lover's feelings aside, though, and embraced veganism (almost) wholeheartedly when I jumped into the cookbook to make one appetizer, one main dish and one dessert. I was so dedicated, in fact, that I made four grocery store trips to buy everything I needed. I also went broke buying the goods, but that included purchasing whole bottles of oil and other multi-use items. The FBGs are nothing if not dedicated.
My main problem with the cookbook, believe it or not, wasn't the attitude or the hard-to-find ingredients. It's the fact that for using the word "skinny" in the title, there was not a single nutritional fact in the entire book. I had to break out my pencil and calculator to get the "skinny" on the calorie counts in the dishes. We're not calorie counters, but it is nice to have a general idea of what you're putting in your body.
Stuffed Mushrooms
The stuffed mushrooms called for basic ingredients like mushrooms, red peppers and shallots, along with herbs and spices. I did have a problem finding refined coconut oil, and mistakenly bought the unrefined version. I already had bread crumbs on hand, so I didn't buy whole wheat bread crumbs for the occasion. I also gave up on finding vegan parmesan and went with what I had on hand.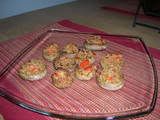 The mushrooms did turn out to be pretty tasty and were easy to make. The hubby kept popping them into his mouth, so clearly he didn't hate them.
The skinny: This total recipe had 701 calories in it. Split between four people, you could have five mushrooms for 175 calories.
Pad Thai
This Pad Thai opened my eyes to a whole new world of chefery: Cooking with tofu. I'd never cooked with it and actually had to call Jenn to find out where it is in the store (packaged section of produce, for the record). It is SIMPLE to cook with, and I'm now sold on it. The ease of finding the tofu was balanced out by hunting down other ingredients for the noodle dish: agave nectar, mirin and sriracha sauce.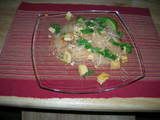 While the Pad Thai wasn't the Pad Thai of my dreams (I have insanely high standards for Pad Thai), it was a really tasty noodle dish. The tofu absorbed all of the delicious onion, garlic and sauciness, the noodles were a great texture, and the whole dish tasted light and clean.

The skinny:The recipe says it makes 3-4 servings. I had the above-pictured portion for dinner, my hubby had a large portion and went back for seconds, and then I had the leftovers for two days of lunch. In my opinion, it's more of a 4-5 serving dish. If you split it into 3 servings, the calorie count comes to 688 calories per serving; if split into 4 servings it drops to 516 calories.
Chocolate Cake
The dessert endeavor had me all over the grocery store hunting down never-before-seeningredients as well. Safflower oil was a stranger to me, as were vegan chocolate chips, evaporated sugar and soy creamer. While the cake was baking, I whipped up the frosting, which turned out to be delicious. When my taste-tester hubby took a scoop of gooey frosting from the stove top he said, "That's what I imagine Willy Wonka's chocolate river tastes like." It really was that good.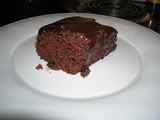 I was a little nervous the cake would have that vegan-y health food taste, but it only tasted yummy.

The skinny: At 12 servings, the cake and the frosting weighed in at 533 calories per slice. However, at 16 servings, the cals drop to 400. I even think those portions are out of control, as the cake is super rich and made in a 9×13 pan. I think I was easily able to get more like 20 portions out of the cake, dropping the calorie count to a more reasonable 320 per serving. A splurge, but totally worth it.

I won't be joining the Skinny Bitch fan club any time soon, but this book really did open my eyes to new grocery store aisles and ingredients that I had no experience with. Now that I have some of the basic ingredients listed throughout the book, I just may give some of the other recipes a try. After all, I need to use up some of these insanely pricey ingredients. —Erin