★FitStars: An Interview with Bob Harper
Erin and I could not be more giddy to introduce today's FitStar. Heck, we even made a countdown for him, complete with floating happy hearts. Bob Harper is best known as the blue team's trainer on the crazy-successful and inspiring reality TV show The Biggest Loser. He not only helps transform people's bodies and lives, but he also stars in all of The Biggest Loser Workout DVDs (look for the full review of the two most recent titles—Boot Camp and Weight Loss Yoga—tomorrow). Plus, he routinely makes Erin and I's knees all wobbly. Below is our Q&A with him. He's inspiring, so be sure to read all the way through. We make him blush. Teehee.
FBG:Do you design the workouts on The Biggest Loser DVDs? How similar are the workouts to those done on the Ranch?
BH:The workouts that you see on the DVDs are the kind of workouts that I put my contestants through on The Biggest Loser.
FBG: A lot of people in the industry consider yoga to be a supplement to regular cardio and strength training. What are your views on how yoga fits in a regular exercise program, and why did you decide to do add a yoga DVD to The Biggest Loser DVD collection?
BH: I think yoga is one of the best workouts for your mind and your body. I do a lot of yoga with my contestants, and I thought it would be a great addition to the BL workouts. Yoga utilizes your own body weight when working out, and it not only works on your flexibility, which is good for keeping the body agile and young, but it is a great body-conditioning workout also.
FBG: What's your favorite The Biggest Loser Workout DVD to date? What's on tap for future DVDs?
BH: I was really excited to do the BL Yoga workout because it is different, and it will introduce yoga to a whole new group of people. I also just love the Boot Camp workout. They are just so effective and fun.
FBG: What's a typical day look like for you in terms of work, exercise and personal time? Is it hard to squeeze in your own workouts?
BH:Workouts in my schedule take a top priority. I usually get my workout done first thing in the morning. Then I usually have to be at work at around 10 a.m. and if I have the energy, I will take a spin class in the evening before dinner. I love to work out. It is a major stress reliever.

FBG: What's the most challenging part of being a trainer on The Biggest Loser?
BH: I would have to say the very rigorous schedule is the biggest challenge of being a trainer on BL. The job is 24 hours a day, 7 days a week. On camera and off. These contestants are without their friends and family, and I have to be not only their trainer but their nutritionist, friend, mother, father, therapist…It takes a lot out of me but with that said, I LOVE MY JOB!!!
FBG:Can you tell from the first day of a season if someone is going to make it to the finale?
BH: I have learned to never underestimate ANYONE that comes on our show. People have very big awakenings at any given time when they are on BL. There are definitely people that stand out in the beginning, but I have seen people that came out of nowhere and have gone all the way.
FBG:Obviously the contestants on the show learn a great deal from you, and you become very close with them. What have you learned from the contestants?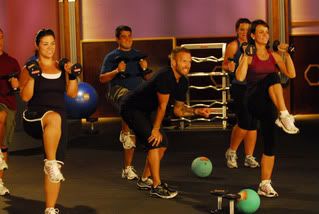 BH:I think the main thing that I have learned from my contestants is very simple: Triumph of the spirit. There is nothing you can't do when you put your mind to it and when you decide that you want to change your life and make a difference, you can do anything!!! These contestants inspire me every day!!!

FBG: A number of our readers (including us) are rather smitten with you. What's it like to be a fitness sex symbol?
BH: LOL!!! Wow, that is such a compliment. I have to tell you that I really do love what I do and I guess it shows. I like to take care of myself so thank you for noticing. I really do believe that I have to practice what I preach and now at 43, I am in the best shape of my life and want to be around for a very long time. I think I'm blushing right now….
FBG: What's the best part of your job?
BH:The best part of my job is sitting with someone in the very beginning that has gotten so far off their track of life and guide them back on course. That to me is the greatest reward of what I do. I get to give people hope. I make people believe in themselves again. That is what life is all about, getting another chance AND taking it.
FBG:Obviously losing weight in the real world is different than on the show. Any advice for people out there trying to lose weight?
BH: I tell people to start off small and not change everything all at once. Realize that you are making a "lifestyle change" and not looking for a quick fix. When you begin to make small changes, you start to feel the difference and then you can grow from there. I really do think that if you try to do too much too soon, you can set yourself up for failure. Remember, today is the first day of the rest of your life and, most of all, you are worth it!!!
Sigh. He's wonderful. And 43?! I would have never guessed! —Jenn
Want more inspiring words from fitness celebs? Check out our interview with Kathy Smith and the first female The Biggest Loser winner Ali Vincent!