★FitStars: An Interview with Jackie Warner and FBG's First Podcast!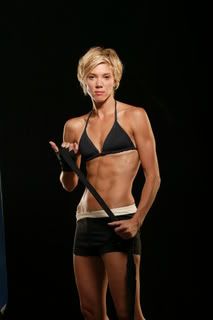 When I think of Jackie Warner, I think two words: bad ass. With her own reality TV show, a take-no-ish attitude and killer abs (see right), she is a force to be reckoned with. That's why, when I had the opportunity to interview her on the phone from her personal training studio Sky Sport Spa in LA, I was a tad, okay, really, nervous. But, thankfully, after a few questions, Jackie made it seem like she was just another gal, albeit a gal with a ridiculous amount of fitness knowledge, a strong passion for helping people get healthy and ah-mazing abs (again, see right). No wonder so many fit girls and boys have crushes on her. (As you'll hear in the interview below, I fall victim, too, as I pretty much kiss her arse.)
A word of caution before you listen…this is the FBGs'first attempt at doing a podcast, and, obviously, we have a lot to learn. I have enough "ums" to drive any sane person crazy, and I really should learn to slow down and breathe when speaking. Thankfully, for you, Jackie does most of the talking.
I really can't wait to read Jackie's new book and review her next DVD (because we loved this one). I also have my fingers crossed for another season of
Workout
on Bravo TV. And, as promised from the interview, Jackie's next SkyLab event will be held June 6-13. For more details, click here.It's always refreshing when a celeb seems the same on camera as off camera. From my perspective, Jackie really is just like she is on TV—tough, charming and smart. Wouldn't you agree?
—Jenn
For more star-studded interviews, check out
our love fest with Bob Harper
and
Q&A with DVD queen Denise Austin.