Hooked Up and Giving It Away
(Don't let the headline freak you out, this post isn't nearly as suggestive as it might seem.)
Technology is so cool. Like so cool that sometimes I can't believe it exists. Of course, things like space shuttles and face transplants and (let's be honest here) the internet are hard to comprehend, but I'm also fascinated with flat-screen TVs and Blue Tooth. (Just how do they do it?!) Fitness tech hasn't been left out of the game either. There are a number of wicked-cool workout pieces out there. Here are a few we uncovered, but don't ask us to explain how they work…
iPods Do Triple Duty

Thought your iPod Touch or iPhone was just for storing kickin' workout tracks or entertaining you with movies for a long flight? Think again. New technology allows the iPhone to double as a heart monitor and fitness tracking system that actually listens to your heart. SMHEART LINK is a wireless bridge that collects data from heart rate monitors and cycling sensors and sends it to your iPhone or iTouch via Wi-Fi. Then, through a suite of apps, users can track their fitness data on their iPhone or iTouch. Um, that's mind-blowingly cool.
Go All Sport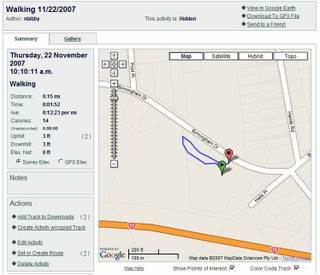 If you don't have an iPod Touch or iPhone (like me, sad face), all technology hope isn't lost. AllSport GPS has you AT&T users covered. With its GPS-based fitness-training application, certain cellies can track how far, how long and how super fast you run, hike or walk. Plus, the software figures out how many calories you burn, along with your route and speed. The fun doesn't stop there either. You can also log your completed routes, share them with friends, search for trails in your area or cities you visit, and race against virtual competitors. The service isn't free, but at $5.99 a month, it's not a bad deal. If only I had AT&T. You reading, T-Mobile?
A Cyclist's Dream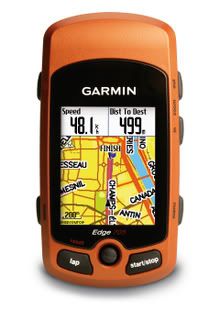 Cyclists: Don't feel left out of the technology love fest 'cause we've got something pretty bad ass for you, too. Say hello to the Team Garmin Edge 705. In a fun bright orange, this puppy is wireless and can monitor GPS position, heart rate, speed, cadence, altitude and gradient on the same display.
This watch/computer/amazing-ness has been used at the Tour de France. The price tag is steep at $499, but can you really put a price on training like a pro? (Plus, you kinda feel like a hip Inspector Gadget when you wear it.)
Flex Your Power


Besides the sweet graphic at right, the DynaFlex PowerBall is kind of amazing and powered by patented gyroscopic technology. I'm not really sure what that means, but let's just say it lights up and gives your wrist and forearms one heck of a workout. I have to admit that it's a bit odd and somewhat difficult to start (you pull a string and the baseball-sized ball starts spinning like it has a mind of it's own as you try to rotate it back and forth—where the workout comes into play), but it definitely works.
The ball can help increase grip strength, dexterity, range of motion, blood flow and muscle tone. It also aids in the rehabilitation of Carpal Tunnel Syndrome and other repetitive stress issues. The ball is used by the U.S. Military Special Forces, professional athletes and NASA to help astronauts maintain muscle tone and flexibility. If it's good enough for astronauts, it's gotta be good enough for fit bottomed folks everywhere!
Want to try the DynaFlex PowerBall? Leave us a comment below or send us a line at contact@fitbottomedgirls.com about why you'd like to win the PowerBall (not the lotto kind, unfortunately, although that would be fun, too) by Sunday night, and we'll announce the winner next week. Good luck to all! —Jenn