Runners' Highs (Plus a Giveaway!)
There's a lot of product out there in the running world. I recently hit up the Nike Town store in Chicago only to be dazzled by the large number of shoes, socks, clothing and accessories. (Yes, I succumbed to temptation and spent more than I, or a small nation, could afford.) Here at FBG HQ, we get our fair share of running gear to try, too. After all, I am a runner now. (I may be a slow runner, but it's so exciting to actually write that and believe it!) Below are three hot new running finds that we've tried and are psyched enough to tell you about. They may not guarantee a good runner's high after every run, but they sure as heck can't hurt!
Nike+ SportBand
I'm in love with the
Nike+ SportBand
. Through a sensor that's placed in your
Nike+ ready shoe
, you wear this cute and
cute little
band (reminds me of the
LiveStrong wristbands
) that tells you how far you've run, your time and your calories burned. Then, after you run, you plug a small part of the band into the USB port of your computer and voilà!
Your run is uploaded. On the
Nike+ site
, you can set goals, create a mini-me of yourself and track your progress.It took me a little while to figure out the software and how to get my sensor calibrated to my slower stride (out of the box it gave me waaay too much credit—I do not run 7 miles at a 8:31 per mile clip), but once I did, talk about girl on the run. While my motivation before the Nike+ had been good, I was PSYCHED to get out and add runs to my online profile. Plus, I synced my runs to my Facebook page, so that all my friends and family could see what I ran and how quickly. The only thing I wish this puppy had was a heart rate monitor. And GPS. You listening, Nike?

PUMA's Cell Voltra
When these first came in the mail, I squealed. I know you shouldn't judge a book by its cover, or a shoe by its look, but dude, this shoe is fly! I kicked off my worn-out Adidas kicks (good timing by Puma, by the way) and laced these up for a quick walk around the block to test them out. They've got good cushioning (proving to me that I really was in need of new shoes), especially in the heel, and they fit my somewhat narrow feet well, even adding a little bounce to my step. I also wore them during a spin class, a 20-minute session on the elliptical and while doing a strength-cardio circuit, and no complaints (besides the fact that the spin bike strap left a black mark on my right one—boo)!
One word of caution:These are categorized as a running shoe, I wouldn't take them on much more than a short and less intense jog. If you're a serious or somewhat-serious runner with specific shoe needs, this isn't your shoe.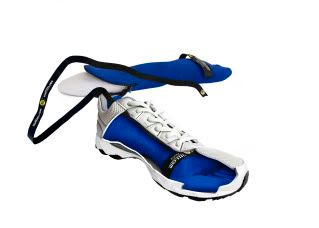 Stuffitts Shoe Savers
I love the name of this one, and have routinely taken delight in telling my husband to just go "stuffitts" after a run. These cute little shoe inserts (they even have little toes!) help keep your workout shoes fresh and clean. The inserts are filled with good-smelling cedar (I may or may not sniff them regularly to feel like I live in a romantic log cabin overlooking the Swiss Alps with my boy-toy/massage therapist Sven) and help to keep your shoes dry and stink-free.
I will be honest that I didn't notice a huge improvement in my shoes after using these, but I'm really lucky in that my feet don't sweat much. (No worries, my forehead more than makes up for it.) However, my husband's shoes were dramatically improved after getting stuffed.
So there you have it. Ways to get high…through healthy geared-up running! Let us know if you've tried any of these or plan to! —
Jenn
If you have stinky feet in your life, I have good news:

We're

giving away a pair of Stuffitts! All you have to do is comment below or email
contact@fitbottomedgirls.com
by next Wednesday as to why you need them. U.S. residents only, please!