What Happens When an FBG Gets Body Shamed
I went bikini shopping the other day, and I was actually pretty excited about it. Since the Olympics, I've been playing some beach volleyball — always a good way to boost my self confidence when it comes to wearing a two piece. Plus, I'd spent much of the day discussing body image and self confidence and the importance of really, truly owning your space and loving yourself. But bikini shopping has never been my favorite, so even though I was going into it feeling pretty awesome about myself, I knew it would be a bit of a test.
There are two shops next to one another — one with more of a boutique feel, the other being more of a big, generic beach store. I remembered seeing some good sales in the boutique, so I headed there first with Jared in tow. It turned out the shop carried a large assortment of more conservative suits designed for women of a certain age (which makes sense — hey, I do live in Sarasota!), and there was just one sale rack with more on-trend bikinis. I found one that I thought might work and took it to the dressing room. It wasn't terrible, but it wasn't exactly my style, and, well, the cups were insufficient.
Still, my self confidence remained intact. After all, not every suit is right for every person. I'm sure even Kerri Walsh Jennings has tried on bikinis she didn't love, right?
As I put the suit back on the rack and headed toward the door, the saleswoman asked how I had done. "It wasn't quite right, but thanks!" I replied with a smile.
And that's when she hit me with the following: "Well, that's really more of a junior's style."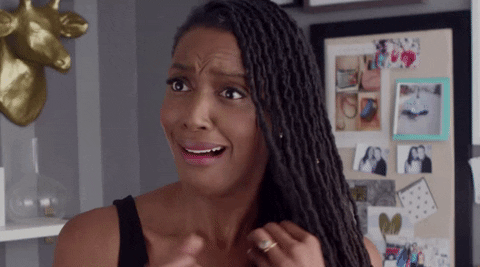 I turned and looked at her, looked at Jared, looked back at her, and slowly walked out the door, dragging my jaw along the floor as I went. Once we were out of earshot, I looked back at Jared (who was also taken aback, but unsure what to say), and asked him what he thought that was supposed to mean.
Of course, I didn't hear his response because my mind was buzzing too loudly with every possibility of what she might've meant. Is 36 too old for a bikini? Do I look older than that? Did she think I was too fat? I did gain a couple of pounds while I was traveling. Or, oh my god, am I tacky? She thinks I'm tacky. Is my sense of style that bad? Do I always dress inappropriately? I'm fat and wrinkly and I have horrible taste. WHY HASN'T ANYONE TOLD ME?!?
And yes, this is all happening in the head of a woman who is not only pretty damn confident about herself in general, but was also coming off a day of being built up and supported by other strong, amazing women.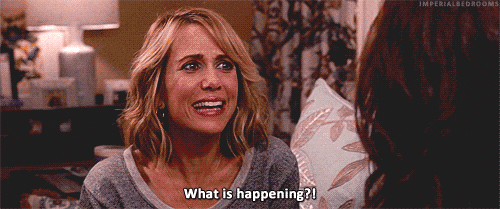 I went into the next store and literally felt my posture shrink. I found myself looking at the racks of full coverage one pieces with tummy taming panels and distracting prints. Then I looked at the walls of two pieces. Where did I belong?
It was at that point that I got fired up. I don't know what that woman meant by her comment — maybe she genuinely thought she was being helpful and supportive, or maybe she has weird ways of getting her kicks.
But what does it matter?
What matters is how I feel about myself, and although I might be double the age I was when I graduated high school, I'm also at least twice as confident. I'm not a size 4 or a bikini model — I never have been — but I'm strong and I'm athletic and curvy, and I love bright colors and fun styles and I really don't care how appropriate or inappropriate that is.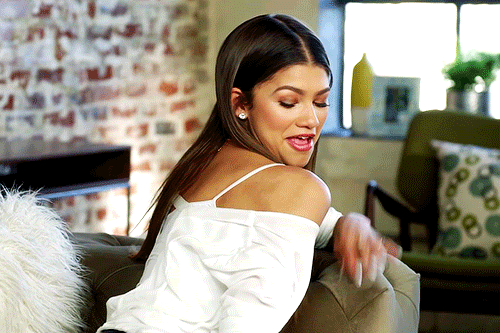 I loaded up my arms with every bikini that caught my eye. Tiny bottoms, frilly tops, wild patterns, fashion-forward cuts — I took 'em all in the dressing room with me.
Some of them, admittedly, looked terrible. A somewhat sporty Speedo made me look smooshed and wide, and a strapless bustier-style top bordered on the obscene. But the suits I tried on that were a good fit for my shape, size and sense of style? I freaking rocked every single one of them.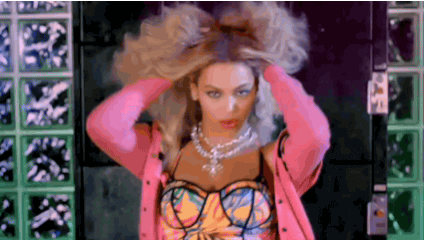 Why am I sharing all of this with you? For one thing, it's cheaper than therapy, but more importantly, I wanted to make it clear that it's okay to experience moments of self doubt and temporary crises of self confidence — even if you're a total badass with relatively few body image issues. It happens, and it's alright.
The important thing is to continue loving yourself and believing in yourself enough to come back from it, whether that takes the form of getting feisty and rebellious (I will try on those Brazilian cut bottoms and you can't tell me I shouldn't!) or it's more a matter of kindly reminding yourself that you're not defined by a stranger's comments (or bad dressing room lighting, or a number on the scale, or, or, or …).
Have you experienced moments like this, where you almost feel like your self confidence has taken a gut punch? What did you do to come back from it? I literally spent a moment standing like Wonder Woman in the dressing room, and I am certain it made a difference. —Kristen