Denise Austin: 10 Five-Minute Target Toners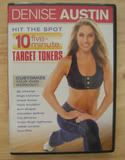 Denise Austin and I go way back. My first foray into instructed exercise involved my pint-sized self working out to ESPN programs with my mom. Back in those days, we'd tape Denise's show and Bodies in Motion with Gilad, who was also fantastic in his spandex. I have much love for Denise, and Jenn has even spoken to her (ooh, we're soo credible!). Rest assured, she has no idea who we are and is not perkily forcing us to give her a positive review.
Denise is definitely a happy camper. But in 10 Five-Minute Target Toners, I thought she was an excellent blend of the perky Denise you expect and the encourager you need.
The video is easily programmable, and you can choose from three pre-set workouts or customize your own program. You can add a warm-up, any combination of the five-minute sessions and a cool down. The sessions are broken down by body part (practically down to the pinky), so it's easy to mix and match. I chose to do the whole DVD straight through, so I got a good 50-minute workout out of the deal. If you do the entire video, there's quite a bit of up and down, but I only got annoyed at that toward the end when I was getting worn out and therefore cranky.
The five-minute segments quickly move you from one body part to the next, and by the time you're like, "Seriously, NO MORE!" you're moving right on to the next session. There's slight overlap in some of the muscles worked, of course, so at times you're (read: I'm) whining, "But we already did arms!" and then you realize it was actually shoulders. Because I'm so strong, I used 5-pound weights, and there were definitely a few tough sections. In the chest portion I was introduced to walking push-ups, and I actually wrote in my notes "Holy crap."
The moves themselves are all basic, but she does throw in some slight twists to old faithfuls, which makes them feel fresh. She cues like the pro she is, but there was the occasional misfire, like when she says to "come all the way up" and doesn't actually mean "come all the way up to standing."
The music was your typical catchy variety, and I swear at times it actually went along with her sing-songy words of encouragement. She does throw out some classic Denise gems, like her standard, "This is my favorite!" because everything is her favorite, "One more, it's awe-some," which struck me as hilarious, and "Our spine is our lifeline," which gave me a laugh toward the end.
FBG Rating (Out of 5):
Instruction: ★★★★
Long-Term Likeability: ★★★★★
Music: ★★★
Fun Factor: ★★★
Meets Expectations: ★★★★
Overall: ★★★★
Fit Bottom Line: An all-over toner great for those with exercise ADD and those who like to be able to mix and match a program. Make it harder or easier by changing up your weights or by adding more sections. —Erin
Want more reviews? Read the Fit Bottomed Girls' new release reviews and retro reviews. For more on how our ratings are determined (it's not a science, but we do have some method to our madness), read our review criteria.