Fit Bits: Bally's Cats, Beckham's Kids and J-Lo's Threads
Bally Total Fitness gets catty, Beckham kicks it with kids, and J-Lo does workout wear.
Bally Adopts More Pop Icons
To be on point for their upcoming album and music video for "When I Grow Up," the Pussycat Dolls have loosened up their buttons, put on their workout gear and hit the gym. The dolls will join the list of Bally celebrity endorsers, including JT, Kylie Minogue, Pink, Jessica Simpson and Cher.
The girls are on Bally's customized nutrition and fitness plan, which consists of regular workouts (yay!) and only 1,200 calories (boo!). Don't cha want, say, 1,500 for all that cardio and dancing, ladies?
Meow.
Bend with Beckham
The Fit Bottomed Girls, like most heterosexual women with a pulse, love David Beckham. The boy is what you would call fit. As if his young boys weren't enough (thank goodness future generations can enjoy the Posh and David good-looks lineage!), Beckham helps kids ages 4 to 15 to learn the importance of hard work, healthy living, team work and fun each time they step on the field.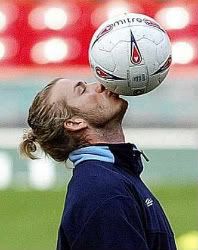 The academy recently announced a contest involving the MatchMaster, a hand-held interactive soccer game that combines fun with fitness. By racking up points in the game, young football fans have the opportunity to win 1 of 100s of academy prizes, including a trip to England and the chance to train at the David Beckham Academy in London. Sounds glorious. David, can 20-something girls enter, too? The FBGs dream of being that soccer ball…
A perfect match.
Jenny from the Gym
Four months after giving birth to twins, J-Lo is ready to get in shape, but she's doing it with her own personal flair. It's rumored that Mrs. Anthony wants to add to her fashion empire by designing affordable and comfy workout apparel that easily transitions from gym to street.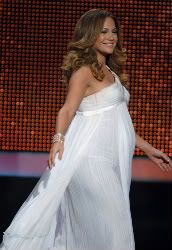 The Fit Bottomed Girls have always been big J-Lo fans. I mean, she may be the originator of the healthy butt. I'm sure whatever she designs for the club, she'll do it well.
She's real.
—Jenn