As I've recently discovered, it's hard to be lazy when you're surrounded by active people. While I've worked out regularly for years, my hubby has been a yo-yo exerciser, only recently starting to fit exercise in consistently. I've always hounded him to exercise more, but I can't really blame him. When someone is so busy that it comes down to fitting in exercise or sleep, you know what's going to win out.
Studies
show that in relationships, couples have great influence on each other when it comes to getting active. A University of Pittsburgh study concluded that women who work out regularly are more likely to have an active spouse. And researchers at the American College of Sports Medicine found that compared with singles, married men and women reported higher levels of exercise participation. Partnered men who were highly active were almost three times as likely to have a similarly active spouse.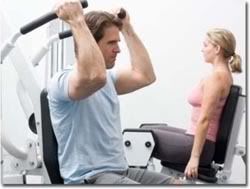 From my personal experience, I know that when my husband works out on top of his already busy schedule, it keeps me in check. Besides going for walks after dinner, we'll hit the gym together or even try new workouts (more on that Thursday!).
While there may be some activities you can't do as a couple—he runs way faster and leaves me choking on his dust, for example—we do enjoy hiking together, skiing and walking the dog. At the gym, we do our own cardio, and he helps me figure out the weight machines. I know I work out harder and longer when he's at the gym with me.
If you're single, no worries! Grab a friend and make weekly dates at the gym or the park. When you know someone expects you to be there, it's hard to get lazy and let them down. —Erin
Photo grabbed from photobucket.com.