Fitness by Cathe: Cardio+Weights 4-Day Split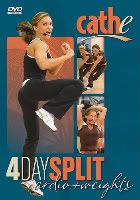 In mid-July, we asked, "Who is your favorite veteran exercise DVD Celeb?" And, well at least for us, the results were a little surprising. We thought for sure that we had listed the most popular celebrities. But, as you told us in the comments, we forgot one big one: Cathe Friedrich.
I have a secret. Come in closer.
Closer.
I had to Google good ole Cathe because I didn't know who she was.
GASP. [I hang my head in shame.]
But, I have now seen the Cathe-colored light. I recently tried her
Cardio+Weights 4-Day Split
, and the woman damn near killed me…in a good way, of course.
4-Day Split is divided into two DVDs each containing two full workouts (from 59-71 minutes each) including separate warm-ups and cool downs. All together, the workouts provide four excellent cardio session and four heavy weight routines of multiple sets and exercises for every major muscle group. Again, she darn near killed me.
Higher Intensity Step Plus Heavy Weights Chest/Back
I am by no means a step person, so take this with a grain of salt, but this was my least favorite cardio session of the set. The choreography was all over the place, and although she cues beautifully, I was lost a number of times. I'm sure step aficionados would love it though. The chest/back weight-lifting section was Intense, with a capital I. You do numerous kinds of push-ups that make you want to scream. You literally do 100 by the time the workout is over. And you perform a bunch of rows with a barbell. (I subbed dumbbells though, and it did the trick, trust me.)
Lower Intensity Step Plus Heavy Weights Shoulders, Core and Calves
This step workout was easier than the first one and included more moves off the step, so naturally I enjoyed it more (aka fell down less). You do three combos with Cathe and then at the end you put them all together. Well, she puts them all together, while I attempted to keep up and ended up freestyling a little more than Cathe probably intended. Then, you do five sets of killer shoulders (on these even Cathe stalls a bit and starts to look a bit taxed, and sister is ripped!), three sets of calf exercises (enough to get that good burn/calf-ripping-from-your-leg feeling, depending on how you look at it), and too many crunches to count. She also throws in a plank at the end. Bonus torture! Oh, beware the cool down on this one. The moves are yoga-based and good, but the music is creeeeeepy and oddly high-pitched. My husband came in to check on me during it, thinking an alarm was going off.
Boot Camp Plus Heavy Weights Biceps and Triceps
Although Cathe says the first part is a warm-up, she starts off with squat thrusts and push-ups.
Cathe is smoking. That's no warm-up—that's a workout.
You have to pull out the step a few times for moves (I groaned a lot about this), and you need a lot of space for the jumping and running drills. You get to do suicides, too. If you've never done them, Cathe will show you how they got their nickname. For the bis and tris, the fun continues. You "warm up" the triceps with slow dips (n
ote to Cathe: time to re-evaluate what a warm-up really is for mortals),
and then progress to every bicep and tricep exercise known to woman. Look for Cathe's veins popping out on this one. It's a little scary and awe-inspiring at the same time.
Kickbox Plus Heavy Weights Legs and Core
Awwww, Cathe saved the best for last! This was by far my favorite and sweatiest workout of the four. The kickboxing moves are pretty basic, but it's fun and gets your heart rate up. She really is a fantastically talented instructor, and despite what I've said before, she is human, and it's nice to hear her genuinely comment about how hard some moves are, even for her. I'll ignore her unusual breathy-ness in the warm-up. (For a second time, the husband came in hoping for something interesting on TV, as it sounded that breathy.) The leg exercises are crazy and made me sore for three full days. And the core? Same story. Be sure to watch the girls in the back in this one. A number of times you can tell they're forcing a smile through big-time burn.
What I love most about these DVDs is that it's almost like you're actually in a group exercise class at a health club. Even the music is similar to what you might hear in weight-lifting classes. There are no gimmicks, no bizarre moves in attempts to be "different," and the woman is somehow motivating without being mean, uber tough (although I think she could break me in half) or so perky you want to reach through your HD TV and strangle her with your resistance band. The workouts are also divided up into about a billion chapters, so it's easy to program your own personal workout with Cathe.
However, this DVD requires so much equipment and space that you practically need a health club to do it in. I was constantly pulling stuff out from closets, the basement and even the kitchen (my step doesn't go high enough for leg presses, so I subbed in a chair, a move that I'm almost positive wasn't safe or smart on my part considering how klutzy I am). For the record, you'll need the following items to fully and properly participate in this DVD: a step, multiple risers, dumbbells ranging from 5-30+ pounds, a barbell with accompanying heavy weights, a stability ball, a resistance band, a heel wedge, ankle weights and a mat. Whew. The DVDs are tough and not, I repeat NOT, for beginners.
FBG Rating (Out of 5):
Instruction: ★★★★★
Long-Term Likeability: ★★★★
Music: ★★★
Fun Factor: ★★★★
Meets Expectations: ★★★★★
Overall: ★★★★
Fit bottom line: Not for the faint of heart, this is a top-notch DVD set for advanced exercisers who are looking for a cardio and weight-lifting challenge. In addition, they must also own enough equipment to run their own health club. —Jenn
Want more reviews? Read the Fit Bottomed Girls'
new release reviews
and
retro reviews
. For more on how our ratings are determined (it's not a science, but we do have some method to our madness), read our
review criteria
.