The Bollywood Dance Workout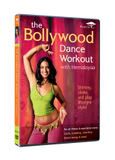 After tackling both Zumba and Yoga Booty Ballet, Jenn and I wanted to round out the "fun" workouts with a Bollywood review. With several options to choose from, I opted for The Bollywood Dance Workout with Hemalayaa. How can you turn down anything that evokes the sparkly Indian cinematic tradition?
The video is 47 minutes of Bollywood-style movement infused with hip-hop, belly dance, Indian, classical and Bhangra dance moves. Hemalayaa leads you through all the dance moves in the Indian-inspired setting. The bright colors, midriff-baring tops and colorful pants with gold shimmering belts are visually appealing and are a nice change from the typical set. Adding to the visual appeal is Hemalayaa herself. She is distractingly pretty.
The workout centers around fun moves, most of which I've never come across before. The segments, all ranging from five to nine minutes, have names like "Now We're Hot!" and "Playful Dance" so you know you're in for a treat. The warm-up includes shimmying, neck stretches, shoulder bounces, and even face stretches and lip "flubbing," also known as "letting the air out of your mouth with your lips closed." Unique from the get-go.
Each segment involves a different set and style of dance moves. The first dance segment, "Playtime Begins," was a little dizzying to me. Watch out for the spiral whips, which involve bending over at the waist and standing up again to "whip" your spine. These were a little too violent for my bones, so I had to slow them down. Circle walking also made me want a Dramamine, but I did like the hip scoops, standing swimming moves and African arms. See, even the names are fun!

The next dance segment focused on footwork and involved a lot of foot wiping and tapping and a hilarious move of "feeding the chickens." I don't quite look like Hemalayaa while doing these moves, but I don't feel nearly as incompetent as I do with Zumba. Hemalayaa is cute imitating a gorilla; I look like a monkey. At least I'm in the ape category.

You start to get some toning and a bit of a heart-rate boost with the "plié bounce," which works the thighs, and you further work the legs with knee lifts and Hare Krishna moves, with are knee lifts to the side and side hops. A floor work segment works your abs, and you get to pretend to be a mermaid splashing in the water, channeling your inner Ariel.
The final dance segment allows you to throw back to the running man (!), what Hemalayaa calls the "goddess" move (which is a hip shaker), and skiing moves that get your heart rate up. The cool down is nine total minutes and leads you through more head stretches and standing twisted-leg plié stretches. I would have preferred an additional few minutes tacked onto floor work rather than the lengthy cool down.
Hemalayaa cues by voiceover rather than cuing live, so it's surprising that occasionally the cuing would be a touch late. The camera would also sometimes show her pretty face instead of the fancy footwork, but the moves are not an exact science so it wasn't a big deal to me. My one caveat would be to be aware of your own limitations. I, for one, am not comfortable with the spine stretches, head rolling or deep knee bends as they are done on the DVD. Feel free to adapt if needed.
FBG Rating (Out of 5):
Instruction: ★★★
Long-Term Likeability: ★★★
Music: ★★★
Fun Factor: ★★★★
Meets Expectations: ★★★★
Overall: ★★★1/2
Fit Bottom line: Not the most rigorous cardio you'll ever tackle, but definitely a fun and unique workout to mix up the boring routine. —Erin
Interested in trying it for yourself? Buy it new or used on Amazon.