We've received a few requests over at FBG headquarters to review Turbo Jam. And, when the people speak, we answer. Well, unless we don't know the answer, and then we try really hard to ask someone who does. Promise.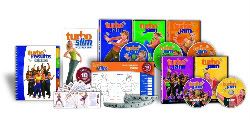 The kind people at
Beachbody
sent me two
Turbo Jam
DVDs, a
Turbo Results
guidebook, exercise plan and a tape measure. (You trying to say somethin' about my measurements? Bring it!) All of the extras were nice (and I'm sure didn't
mean
to insinuate anything), but I was most excited about trying the DVDs. I'd heard rave reviews. And, overall, they were true. The workouts were high energy and fun with good music, and the instructor, Chalene Johnson, is kind of hard to hate. She's totally goofy, and although in spots she's more of a ham than I personally care for (especially on the 26th time doing a workout), the good workouts outweigh the pork.
The entire
Turbo Jam
program is based off of 11 moves, what Chalene calls the Elite 11. The moves are all unique and contain a lot of kicking, crunching of the abs, twisting and gettin' funky. One of my fave moves was the Wheel, which has you put your hands up by your ears and crunch side to side with your tailbone tucked under. And then I really liked Shake and Shed, which is basically a step-touch with a side of attitude. I like the sass. In
Learn & Burn,
the first workout on the first disc, Chalene breaks down these moves step by step in a 30-minute session. It's perfect for beginners and for learning how to do the moves correctly and effectively (if you don't tuck your hips under, you won't get nearly as good of a core burn as you should). Plus, all of the choreography in the later workouts builds on these basic moves, so I loved that she dedicated a full workout only to the basics.
Also on disc 1is a 20-minute session that's the perfect "I don't have time to workout, but I want to do
something
" session. Chalene may be wearing spandex workout pants that are fashioned to look like jeans (fitness fashions, sigh) and the warm-up is unnecessarily complicated, but you're told to ride the "party train" during the song "The Roof Is on Fire," so it's hard for me to be objective, as I rode that party train HARD. The final workout on disc 1 is
Turbo Sculpt
, a 40-minute strength-based workout that works the hell out of your legs at first and then transfers that fun up toward your arms. She throws in lots of combo upper- and lower-body moves, too, and even some functional ones that mimic throwing a bucket of water over your shoulder.
On disc 2, things get even crazier up in Turbo Jam-ville. You get a 45-minute
Cardio Party
that is off the chiz-ain. You'll hear tunes like
Mama Said Knock You Out
by LL Cool J and
Goodies
by Ciara (try not to pay attention to Chalene singing "I bet you want the goodies…"; it's kinda ew), and it is fun. You get plenty of opportunities to bust it, too, with standing crunches plus freestylin' and jumping jacks combined with booty shakin'. Toward the end, a few parts get kind of repetitive, so the par-tay isn't quite as hot, but it picks back up by the end.
The
Cardio Party
is followed by
Ab Jam
, a 20-minute dear-lord-my-abs-were-sore-the-next-day session that targets the core. In the first 10 minutes you do some unique standing moves (I'd never done squats plus hip raises while you twist). During the second 10 minutes, you take the party to the floor (oh,
behave
), where you crunch up and zig zag your body back. Killer. You also do single leg stretches with your arms waving side to side. Chalene beautifully instructs you to "wave your hands in the air; wave them like you just don't care." (And for the record, despite the 90s music references and trying to be really, really hip for her age, she is a very talented instructor and cues proper form perfectly.)
All of the workouts have a running ticker at the bottom that tells you what move you're doing and how many minutes are left in the workout. At first, I thought this would make the time drag by (kind of like when you're on the elliptical and you keep watching the seconds tick by in utter and complete boredom), but it didn't. All of the workouts flew by for me. The sessions also give you the option of "pumping up the music," which basically mutes Chalene to the background and gets the music, well, pumping. I can see how this feature would rock once you memorized the routines and just wanted to
jam
.
Each disc also contains a number of special features, including
jam'd
,a pretty hilarious spoof of
Punk'd
, where Chalene pranks various members of her cast and even impersonates Ashton Kutcher pretty darn well (she rocks the trucker hat and everything). Other features include a heart-to-heart, get-to-know Chalene interview and a Meet the Cast segment. For a workout DVD, it's top-notch stuff.
FBG Rating
(Out of 5):
Instruction: ★★★★★
Long-Term Likeability: ★★★★
Music: ★★★★★
Fun Factor: ★★★★
Meets Expectations: ★★★★★
Overall: ★★★★1/2
Fit Bottom line:
If you like to shake your groove thing, but prefer Tae Bo moves to dance-based workouts

—and you like to party

—this is your DVD. 

—Jenn