Element: AM and PM Yoga for Beginners
In honor of upcoming Yoga Day this Saturday and in a much- needed break from hard-core DVDs such as our recent reviews of The Biggest Loser Boot Camp and American Gladiators workout DVDs—we love the hard stuff, but sometimes you need a DVD or two that's easier on the ol' bod—we've decided to take this UnderReview Thursday and make it peaceful, calm and relaxing. Before we begin, please, everyone take a deep breath in…
And exhale.
Feel better? Good, let's begin.
Element AM and PM Yoga for Beginners has to be one of the most relaxing and rejuvenating DVDs I've ever done, yoga or not. It's calming, peaceful and made me smile. Seriously, the instructor Elena Brower (whose profile resembles Kristin Davis—aka Charlotte) has you smile from time to time and she somehow manages to pull it off without it feeling forced or ridiculously hippidy-dippity. No small feat. The DVD is broken into two logical segments: AM and PM. Each segment lasts about 30 minutes.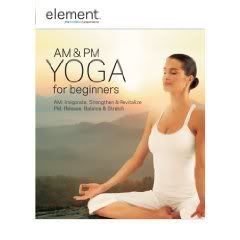 AM
Seriously, the best way to start the day. Elena leads you through an invigorating and pleasant routine that begins with easy warm-up poses and progresses to gentle sun salutations, standing poses like Warrior II and side angle, and ends with floor work including side planks, sphinx and boat pose. Your final pose is a meditation and centering exercise, which really closes the workout nicely and sets a good tone for the rest of your day. For example, after doing the AM workout before work one morning, I was able to calmly sit in a traffic jam without a noticeable rise in blood pressure. Impressive.
PM
For as much as I loved the AM, I adored the PM that much more. It was by far the most relaxing DVD I've ever done. EVER. It was so calming that I actually felt decadent doing it. Like it was a spa treatment or something designed just for me. You begin the segment with a seated meditation and then easily go into down dog, plank and cobra. From there, you get to deep- stretching poses like pigeon, twisting pigeon (I want to marry this pose I love it so much), child's pose and dandasana (seated stick pose). Then you end like you began, with a seated meditation. Ahhh…I can't say enough about this DVD. If you are looking for an instant stress reliever, this is it. Elena has a soothing voiceand is welcoming and warm. She cues well (with a voice-over that is perfectly timed to the workout) and has a fantastic way of explaining somewhat complicated yoga moves in an easy-to-understand way. The music is good, too, and Elena is in a beautiful natural setting. You couldn't ask for more.While the DVD is designed for beginners and is very much appropriate for beginners, I think a lot of intermediate and advanced exercisers, including yogis, can equally benefit from this DVD. It's the perfect workout when you feel tight, are stressed or just want to do "something" but don't have the energy for a hard-core workout. Heck, I might even use it as a reward for a hard week of workouts.
FBG Rating (Out of 5):
Instruction: ★★★★★
Long-Term Likeability: ★★★★★
Music: ★★★★
Fun Factor*: ★★★★
Meets Expectations: ★★★★★
Overall: ★★★★1/2
Fit Bottom line: Exercisers of all levels can benefit from this soothing and relaxing yoga DVD. The FBGs guarantee that it'll make you feel lighter, less stressed and very zen. —Jenn
Convinced that you must try AM and PM Yoga for Beginners? Buy it on Amazon for just $8.99. Which, for the record, is way cheaper than a massage and will make you feel just as good—promise!
*This DVD isn't fun in the traditional woo-hoo sense, but it's totally awesome, so I'm considering feeling-like-a-million-bucks to be "fun."