Keyed Off: Plus A Giveaway!
Why does this girl look so happy and carefree? Maybe because she's not worrying about where her keys are.
See, every time I run (and with my new running goal, I run more often) I have the same dilemma: What the heck do I do with my keys? When I jog around the neighborhood, I usually hide a key under one of my potted plants (God, I hope the neighbors don't exploit this), as I don't have a keypad for my garage nor do I feel comfortable leaving my door unlocked. Then, when I drive to a park to run, I
really
don't know what to do with my key. Do I place it under the tire? That just seems like like I'm asking for trouble. Hmpf.
So, what's a girl to do? Stay in? Not run? H to the E-C-K no. You just gotta get the right gear, and that's what today's FitEquip is all about: gearing up to get keyed off.
Option #1: Carry It

This may seem obvious, but I have very few workout clothes that actually have pockets, and I have no doubt that if I tried to carry my keys, I'd drop them or somehow impale myself with them. Thankfully, I no longer have to do either. The smart people at Gracie's Gear have designed a whole line of moisture-wicking gear with a "power pouch" built in to hold your iPod, cell phone, car keys, wallet, gym card or other items. Score! For the past few weeks, I've been wearing the sports bra, and I love it. Good support, it stays dry, doesn't chafe and keeps my license and key safe. While the square shape of the pocket makes you appear slightly bustier (even without items in it), that's a small price to pay for the convenience. Erin even said she liked the added boost. Plus the company sponsors a number of fantastic charities such as Strokes for Hopes, Together For Autism and the Fight Against Breast Cancer. Can't beat that.
Option #2: Key It In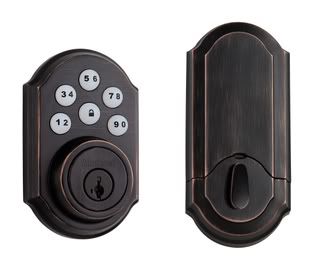 If you have too much stuff to carry for even a pocket, consider option #2: a touch-pad electronic deadbolt. You "lock up" with a code, go out for a power walk and then come back to a safe house, no keys. Doesn't sound too shabby and would have definitely come in handy the time that my husband accidentally dropped our house key while we were out walking the dog. (Thankfully a kind neighbor found it and happened to notice a panic-stricken couple walking by, arguing and staring at the ground.) Although this type of technology has been around for awhile, the new SmartCode Signature Series by Kwikset is smaller and sleeker, and available in an array of styles to match your home décor. However, in my opinion, not having to break in my own house is stylish any day.
So, there you have it. Two good ways to not have your personal property stolen or lose your mind. Which option is your favorite? Have you ever gotten creative with your keys? —Jenn
Want to try out a Gracie's Gear tank yourself (and live in the U.S.)? Leave a comment below or e-mail us at contact@fitbottomedgirls.com by Sunday, February 1, and you'll be entered to win!