Denise Austin: Body Burn and Get Fit Daily Dozen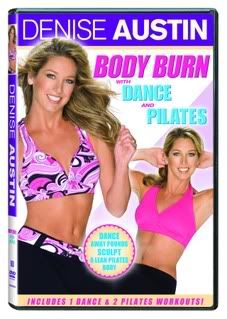 I might be biased, but I feel like as far as beginner to intermediate workout DVDs go, you cannot go wrong with Denise Austin. With so many years of experience, her cuing is impeccable and her videos always pack a lot in. Her two most recent releases, Body Burn with Pilates and Dance and Get Fit Daily Dozen, are both quality investments.
These DVDs reminded me of why I love to review the crazy DVDs out there. When a DVD is solid
—
the instructor isn't overly annoying, the back-up dancers act like normal people, and no one is stomping their feet throwing tantrums
—
it makes my job slightly harder because there is just nothing to pick at. But I suppose we all need balance in our life, and these definitely balance out some of the lackluster videos out there. Here a two-for-one review treat, along with an opportunity to win!
Body Burn
Body Burn is split into three workout segments: a cardio dance segment, a standing Pilates segment and mat Pilates. Denise and her dance team start out with a basic warm-up, with side to side lunges, hip rolls and leg kicks before getting into the first dance combo. The several different dance combos are all basic, fun and easy to learn. You repeat the moves enough so that you know them really well, but not so much that you get bored. Denise leads you through a runway-style walk that's really fun, as well as my fave 80s-tastic hair-washing move. There's a lot of variety of moves, and she even manages to fit in some dance squats. Sneakiness.Plus, I like that you can make moves more challenging by jumping higher or moving farther. A short dance-inspired cool down brought the cardio segment to 30 minutes, the perfect length, in my humble opinion.
Both of the Pilates segments were 10 minutes long and focused on toning different areas of the bod. The standing Pilates segment uses some light weights to work the biceps, triceps and back, incorporating balance work as well. I was pleasantly surprised by two sets of three real on-the-toes push-ups, and combo squat and arm-lift moves followed by standing oblique work were a nice addition.
The mat Pilates portion focuses more on the core and abs, with moves such as the staple Pilates hundred, single-leg stretches, scissor and bicycle moves for the waistline. The inner and outer thigh get some treatment with leg lifts, and the T-stands were one of the more challenging moves of the segment.
Get Fit Daily Dozen

This DVD would be perfect for a beginner new to the workout scene or for someone who's already in great shape but wants some quick workout options for busy days. The DVD allows you to set up your workout by day of the week, or you cancustomize it depending on your level of ambition for the day. The five 12-minute segments are designed so that by the end of the week, you've done cardio, toning and even yoga. The easy-to-follow segments move quickly through a variety of moves, so that you're packing in a quick warm-up, workout and cool down into the 12 minutes. Two cardio segments, upper body, lower body and a yoga stretch provide a well-rounded variety of options. And if you're feeling motivated, you can always do the entire DVD for a one-day workout that will hit the spot without being too overwhelming.
Oh, and buyer be warned: This may give you unrealistic expectations of what you will look like when you're over 50. I told my husband this fact about Denise and he a) didn't believe me and 2) wouldn't take his eyes off the TV after that.
FBG Rating (Out of 5):
Instruction: ★★★★★
Long-Term Likeability: ★★★
Music: ★★★
Fun Factor: ★★★
Meets Expectations: ★★★★
Overall: ★★★★
Fit Bottom line: With a nice variety of cardio and toning, these mix-and-match DVDs would be a great addition to any beginner to intermediate exercisers' collection. —Erin
Are you a Denise fan too? Want to give her newest DVD a shot? Leave us a comment or shoot us an email at contact@fitbottomedgirls.com before Sunday, Feb. 28 and enter to win her Get Fit Daily Dozen DVD!
Want another great Denise review? Check out her 10 Five-Minute Target Toners. And don't miss our interview with Denise herself!