Fly Away, Get Shuffled and Bare that Belly
Reebok partners with Cirque du Soleil, Apple releases a new shuffle, and the elusive six-pack secret is revealed.

Join the Circus

Ladies and gentleman, boys and girls, welcome to the Jukari Fit to Fly workout. What you see at left is just part of the crazy-wicked fun (and no doubt good workout) that is the brainchild of Reebok and Cirque du Soleil. Designed as an hour-long class, the workout uses the FlySet, a three-stranded rope fixed to a gym's ceiling with a 360-degree swivel point at an adjustable length with two attachment loops. The FlyBar, a 4.5-pound attachable steel bar is then placed through the two loops, creating a trapeze of sorts.
The flying/strengthening/lengthening class will launch in top gyms in 14cities around the world: Hong Kong, Mexico City, Madrid, London, Krakow, Munich, Seoul, Kuala Lumpur, Buenos Aires, Santiago, Montreal, Los Angeles, Boston and New York. I'm not sure if I'm coordinated enough to do this class, but I'd sure love to try. (And probably sing "Woman on the Flying Trapeze" the entire time, too…)
One day I'll fly away.
Shuffle It Up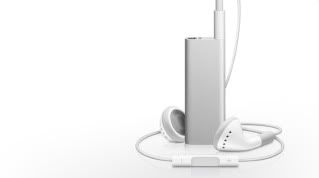 It's no secret that
the FBGs love our poptastic workout music.
And now we have another Apple product to lust after: the new iPod shuffle. It's itty-bitty, holds up to 1,000 songs and allows you to switch between multiple playlists. If that wasn't enough to make you drool, it also talks, telling you what song is playing or which playlist you're jamming to.I'm currently figuring out how I can reason giving up my old one and investing in this new one. So far, my hubby isn't buying it—literally. But at $79, I think it's just a matter of time (or a matter of me devising a way to "lose" my current one).
Bust Out the Six-Pack
Now that spring is in full bloom, I've been thinking more and more about that ol' swim suit. And while that generally doesn't evoke total panic (life's too short, after all), it does make me more cognizant of my middle. In preparation, I've been getting my regular runs in and doing more planks and side planks. I've also cleaned up the diet a tad (one glass of red wine instead of two is my starting place). Thankfully, my approach at toning up is right in line with what the good folks at the American Council on Exercise recommend.
Six-pack myths debunked!
Looking for a few new ab moves to help with that aforementioned six-pack?
Fitness Magazine
has you covered. Its site has tons of free workout tips and routines for every single muscle group. We loooove free, so we had to share!
We're partial to these workouts, of course.
—Jenn