Power Naps, Love Gains, and Hearing Help
Take a snooze at the gym, watch out for puppy-lovepounds, and check the volume before you wreck your ears.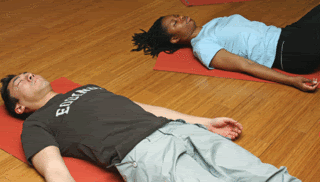 Resting heart rate
It may seem counterintuitive to go to the gym to lie down, but now Equinox fitness centers are offering Powernap+, a yoga class topped off with naptime. The class begins with a short yoga practice followed by 15 full minutes of corpse pose, also known as "lying down, doing nothing." Even if you can't quiet your mind enough to conk out in class, I'm betting that the quiet time will leave you feeling refreshed. With so much emphasis on fitness of the body, it's nice to see this focus on relaxation of the mind.
Take a nap and skip the shower.
In-fat-uation

New love makes your heart swell. But does it also make your belly bloat? A recent eDiets survey answered that question with a resounding "yes." The majority of respondents said they've had to buy bigger clothes since hooking up with their honeys, and most said it was more tempting to eat bad foods when they were partnered up. It's no surprise: With romantic dinners out and split bottles of wine, even the healthiest among us can get caught up in the tangle. On the bright side, those surveyed also said that their partners were supportive of their healthier habits. So, make a partner pact: Stop licking chocolate off of each other and head out for a romantic walk instead.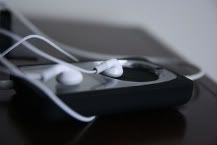 Volume watch
We're all guilty: In a loud gym or on a long run, we crank up the volume on the MP3 player to get us through a tough workout. Well, cut it out! Listening to your tunes at high volumes can hurt your hearing, and the amount of time you're jamming counts, too.While you can probably listen for 90 minutes at 80 percent volume, turning it down is better. You can safely listen at 70 percent volume for well over four hours, and no sane person works out that long anyway. So turn it down to save your ears. After all, an iPod to power you through a workout is no good if you can't hear the tunes. Plus, you want to be able to hear those compliments on your fit bottom.
—Erin
Photos grabbed from  nathalielaure and mil8 at Flickr.