Yogurt is a great thing. It's one of those treats that you can have for a sane amount of calories, it's sweet (many even come in dessert-inspired flavors), and because yogurt is full of calcium and protein, it's good for ya. These reasons are precisely why I eat yogurt darn near everyday. Usually, it's the last course of my lunch meal (the first being raw veggies and the second being a cup of soup or a sammy), or it's dessert in the evening when my sweet tooth is a-talkin' to me and I need to talk back.
However, similar to the nutritional bar aisle, the refrigerated yogurt case at the grocery store is crazy-packed, and the varieties are endless. But we're here to help you sort that section out. I recently loaded up my shopping cart with five healthy and lower-cal varieties for an official FBG taste test. Below are my results. So, bust out your grocery list and prepare to add a few must-haves to it!
Better Whey of Life
The name of this yogurt couldn't be cuter, and its nutritionals are definitely to be noted, as each 6 oz. container has 15-17 grams of whey protein with about 145 calories. The Peach Mango and Acai Mixed Berry flavors are good and natural tasting (read: not overly sweet, which I prefer), and the plain variety is good with a little honey or cereal. I will warn you though: the yogurt isn't overly creamy and was a bit runny for my taste. The extra protein may be worth that though.
Activia Light
Erin's husband and one of my good friends swear by this yogurt in helping their systems get, er, regularly movin'. I sampled the Blueberry flavor and enjoyed its taste, but the portion seemed terribly small. Sure, it's only 70 calories, but it's also only 4 oz. The 3 grams of fiber and 5 grams of protein in each serving helped, but, honestly, I'd rather up the cal count and have a couple more bites. One thing is for sure though, Activia's prized ingredient "bifidus regularis" sure is tasty!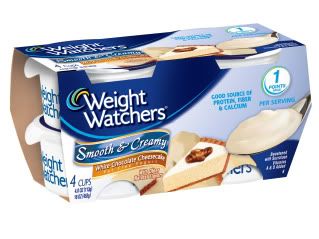 Weight Watchers Smooth & Creamy
I am in love with these. I had never tried them before because they're a little pricier than my usual store-brand yogurts, but, believe me, it's worth the extra buck. The Strawberry Shortcake flavor was good, but the White Chocolate Cheesecake flavor was ah-mazing and lived up to its name of Smooth & Creamy. In fact, the yogurt was so rich that I didn't even notice that a serving size was just 4 oz. With just 70 calories, it could easily be a decadent dessert that fools you into thinking you really splurged.
Fiber One Creamy Nonfat Yogurt
I eat a lot of Fiber One products—cereal, the Oats and Chocolate bars, and the occasional toaster pastry (when I'm really craving a Pop Tart and need to feel not so bad for eating one)—but I had never tried the company's yogurt. Which was dumb. I tried the Key Lime Pie variety and it was really, really good. Again, the serving size was a measly 4 oz., but they somehow worked the flavor of not only key lime but also graham-cracker crust into the yogurt, so I'll forgive 'em. Amazing. Just amazing. Plus at 80s cals, you get 5 grams of fiber per container!
Fage Total 2% with Cherry
While I really, really liked the above yogurts, I may have saved the best for last. Fage 0% has almost a cult following in the healthy food blogging world, as this brand of Greek-strained yogurt is rich, creamy and full of protein with no fat. The plain versions of Fage are more like sour cream than plain yogurt, so they're not for everyone, but I find them to be very savory with some honey or granola.
Fage's Total 2% with Cherry is no exception (although it does have a little fat in it), but it puts some sweet into the savory. The container comes with a large compartment filled with the yogurt and a small one filled with sweetened cherries. When you mix the two? It's heaven. Savory cherry cheesecake tasting heaven. This yogurt is the most expensive of any I tried, but it's a 130-calorie treat that is decadent, filling and good for you with 10 grams of protein and 10 percent of your calcium needs. Hey, if you're going to splurge, might as well make it good for you if you can!
Have you tried any of these yogurts? Are you in love with a different brand or flavor? Let us know in the comments! —Jenn