LOLE, You're Making Me Drool
Now that warm weather is upon us, I want to remind you all of one of the greatest tools for a total-body workout: the pool. As a kid, I used to spend hours running around the pool with my brothers, diving off the diving board, trying to swim the length of the pool under water, doing hand stands in the shallow end, diving for coins at the bottom of the pool, and pretending to be the whale from Free Willy. It wears me out now just thinking about those days. No wonder I could chug my grandma's special chocolate malts and eat cheese sandwiches as a snack afterward and not gain an ounce.
After all of that reminiscing, my main
point is that getting in the water is a great workout. So, say you want to swim some laps but also want to lounge around and check out the lifeguards on duty. How do you combine form and function? How do you look good while making sure your swimsuit doesn't fall off in the deep end, leaving your palest parts exposed? You check out the LOLË swimsuits, that's how.
LOLË, which stands for Live Out Loud Everyday, not only has a slogan I love, but their gear is super cute, too. I recently tried out the Lanai Halter Top with the Cuba Hipster bottoms. While you don't typically think of string-type bikinis as being the perfect active gear, the thicker straps on this suit offer the best of both worlds: superior adjustability and staying power. I loved being able to tie the top on at both the back and the neck as tightly (or as loosely) as I needed and that I didn't have to worry about the strings coming loose when attempting a flip turn at the end of the pool.
If you're not a fan of the halter, no worries. The company offers several other styles, so you can mix and match to your heart's content. Tankinis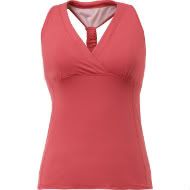 offer maximum belly coverage if you're feeling shy, and the skirted bottom is just such a great idea. Even the one-piece looks flattering.
In the non-swimwear category, check out the Silouhette II tank (left). I'm in love! This adorable top is super soft and works for all body types. The racer back has an adjustable fastener that you can remove for a sportier look (and more coverage). This tank is super flattering and is perfect for a yoga class or run. A pocket at the back side is enough to have me saying, "I love it so much I would marry it." —Erin