SYTYCD Get Fit Review and Huge Giveaway!
I love the show So You Think You Can Dance. Sure, the title is a tad cheesy, but the dancing and choreography is good enough for even my husband to stop, watch and say "wow" without a hint of sarcasm. (I also have delusions of grandeur about going on the show and wowing producer/judge Nigel Lythgoe with my sweet Paula Abdul-esque moves.)
When I heard that SYTYCD was coming out with a workout DVD series, I was skeptically psyched. See, I'd been excited by other dance-based DVDs (Dirty Dancing and Dancing with the Stars) and been burned. Badly. However, I was pleasantly surprised from the get-go with the SYTYCD Get Fit series. Okay, pleasantly surprised doesn't express it. I was FREAKING OUT it was so good! Yes, I had low expectations, but it didn't matter. Someone finally made a dance DVD that's easy to follow, fun, funky and with enough variations and options to keep you totally engaged. Somehow—and I know it's not easy—these DVDs perfectly walk the fine line of making the moves totally do-able even for beginners while still being actual "dancing" (read: not aerobics) and fun. Lots of funny fun fun.
There are two DVDs in the
SYTYCD Get Fit
series:
Cardio Funk
and
Tone and Groove
. Both are set up the same way with an intro, warm-up, three dance-routine workouts with your fave
SYTYCD
dancers, a bonus workout that puts the moves from the other workouts all together (amazing fun here!), a cool down, and interviews with the dancers and the aforementioned Nigel. On each DVD, you get almost two full hours of goodies. It's
SYTYCD
fitness heaven.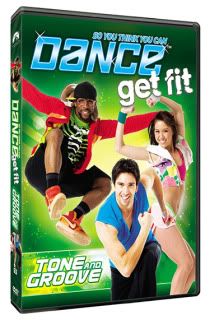 And get this, the dance routines are actually a good cardio workout, and for not being fitness professionals, the dancers are excellent instructors—encouraging, but not annoying. They're vibrant, break down the moves in an easy to understand way and then speed it up multiple times and at multiple speeds so that you can really get it. In the final segments of each dance routine, you get to bust it down with just the music for a full-out
SYTYCD
performance experience (minus Nigel).
All of the dance routines are excellent, although I really, really liked Lauren's Hip Hop routine, Travis' Contemporary moves and Twitch's Hip Hop session (I do kinda have a thing for Twitch though, so I can't be totally trusted on this). There wasn't a singleone though that I didn't like—not even Courtney's Disco (I thought both disco and Courtney would annoy me, but I was so very wrong), Katee's Jazz or Dmitry's Cha Cha. Each and every routine had me sweating and thinking that I sooo could dance.
FBG Rating (Out of 5):
Instruction: ★★★★★
Long-Term Likeability: ★★★★★
Music: ★★★★★
Fun Factor: ★★★★★
Meets Expectations: ★★★★★
Overall: ★★★★★!
Fit Bottom line: If you thought this would be another lame dance workout, think again. Both SYTYCD Get Fit DVDs are fun, funky and fresh, and provide a good cardio workout. They'll make you think that, yes, you can dance! —Jenn
So you think you can win? Comment below or email us at contact@fitbottomedgirls.com by next Thursday with why you want one of these DVDs. We'll pick EIGHT lucky readers to win! U.S. residents only, pretty please! Good luck!