In just one short visit from Jenn, I more than knocked out my biggest New Year's resolution. For 2009, I vowed that I would try at least three new activities. Mission very much accomplished—with more than half the year to go! Jenn recently filled you guys in on what I call our "sweaty yoga" class (which I was positive I would hate, but actually quite enjoyed), but now it's my turn to give you the scoop on our other exercise adventures.
Being a group exercise instructor herself, Jenn's pretty much done it all. But I'd never taken an BOSU class or a cycling class. We rectified this travesty with BOSU Burn and a group cycling class at Equinox Fitness in Palo Alto, Calif., which was so kind in letting Jenn and I drop in on two classes.
I've been fortunate that since graduating college either my husband or I have been affiliated with a university, so I've had the privilege of using university recreation centers for the last few years. Both centers were brand-new and nice, but for the most part, very basic with no extras. I have no complaints; I haven't had to pay for a gym membership in my life. And, I'm not sure how much it costs to belong to a club like Equinox, but I can only say, "It has to be worth it!" It was just sooo nice, with all the bells and whistles you could want or need. With childcare, a fitness shop, a refreshment bar and spa services, you'd never want to leave the gym. Even the locker room was awesome—and much more like a spa than a locker room. With a steam room, beautiful tile and even disposable razors at your disposal (ha), Equinox seemed to go the extra mile to pamper members. And oh yeah! The heated rooftop pool! Ok, I'm done drooling. Now, for the classes!
BOSU Burn
BOSU Burn…or what I'm now calling "BOSU Ouch," had me sore for days. Like, until well after Jenn had returned home and recovered from jet lag. It's a good thing that I think that good soreness is the mark of both a good class and an instructor who makes me push myself.
"BOSU" which stands for "both sides utilized" (I always go with the hipper-sounding 'both sides up') is half stability ball and half flat surface, which you can use flat- or round-side down for various challenges. The instructor, Eric, was our guide through the class, which possibly involved every piece of equipment they had: the BOSU, mat, two sets of weights, gliding discs and a weighted stability ball. Getting all of the equipment out and set up was a workout in itself, and a small preview of what was to come.
The class alternated between serious strength work and cardio drills, lending it very much a bootcamp-on-BOSU (or on crack) feel. But don't let my talk about the difficulty of the class scare you off: You're always the one in charge of your body and your intensity, and modifications were available for all of the moves. I do wish that Eric had demonstrated the moves and modifications a little more specifically, but I quickly got the idea that something was too hard when I could only do two reps (unlike the girl in front of us who did every move at its most difficult level and intensity the entire class. Just…wow) and my body forced myself to modify the move or drop the stability ball.
I got to use gliding discs (the genius idea of Mindy Mylrea) for the first time while doing planks on the BOSU, which entailed stabilizing your upper body while sliding your legs out wide and bringing them in—a killer move for the core. Lunges off the BOSU were also so intense that I felt some of the uber focus that only comes during insane workout moments.
Using the weighted stability ball for upper-body strength work was both hard and hilarious. It seems like it should be light, but the sand in the ball gives it just enough pull to make you work really hard. At some points, I felt like I was doing the moves in slow motion, but my shaky arms didn't have the strength to go any faster or do any more reps. The ball also made an appearance in ab work, where you alternately lift the ball from your knees to your arms and over your head, which had me convinced I would have a six pack immediately after class.
Fit Bottom line: BOSU Burn is bad-ass; I think I lost two pounds.

Studio Cycling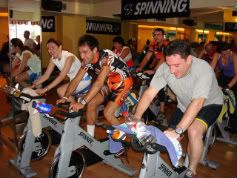 Back when I announced my resolutions for the year, a lot of readers were surprised I'd never taken a spin class before. To tell you the truth, I'd always been a little intimidated by it, but I'm just like that when I've never tried something before (I get it from my mom!). Jenn held my hand, though, and helped me get my bike to the right height before we got started. The instructor, Anne, was friendly and played great music, but I would have loved for her to have given us a 10-second class preview and cycling 101 lesson; we were there early, after all. Lesson for you fit bottomed peeps out there: Don't be afraid to speak up and tell an instructor it's your first time. That's the only way they'll know and you'll get the help/reassurance you need.
Cycling was a lot like what I expected but actually more fun than I thought it'd be. It's not running—yay!—so while you're working your butt off, I never had that "WILL THIS EVER END?" feeling I get when running. Anne talked us through intervals and hills, through high resistance and low. You also alternate from sitting on the seat to standing, which rocks because trust me, your rear needs that standing "break."
What I liked most about cycling was that while you get some serious burn and serious cardio, it's easy to go at your own pace and ease off the resistance when you've bumped it up too much. My legs also got in a good groove, and while they were tired, Jenn didn't have to carry me out. That next day, my muscles weren't sore, per se, but holy moly did my rump hurt for several days.
Fit Bottom line: Two thumbs up for cycling. I'll be back, maybe with padded shorts.
It was so good for me to try a few different classes. Not only did I work new muscles, but it got me out of a rut. Has it been awhile since you've tried a new class? Are there any you want to try? Let us know in the comments! —Erin
Photo grabbed from juanpol at Flickr.