Jamba Juice and Tons of Fun Workouts in the Hot, Hot Chicago Sun
You know who puts on a good party? Jamba Juice. Tish and I were lucky enough to go to its spring blogging event in LA this past spring, and just a couple weeks ago, they flew me out to Chicago for a whole day of fitness-y, Jamba-y fun in the hot, hot Chi-town summer sun. Like the last Pop-Up Fitness Blogger Expo, we worked out pretty much all day, trying all kinds of fun classes and sipping on lots of new Jamba goodness.
The Jamba people are simply awesome (heck, we gave Banana-Man a Fittie for a reason!), and the other bloggers at the event? Um, just as cool. Such a great group of ladies to spend a day with—and beg to spray layer after layer of sunscreen on my poor pale, pale back. So a big thanks to Fitz from Fitzness, Cassey from Blogilates, Katie from FabFitFun, Maya from Vital Juice, Elizabeth from Examiner, Gail from Go Go Gail, and Emily from Fitbie (and anyone else I've forgotten!) for putting up with my constant sunscreen needs.
We started the day with some Jamba oatmeal (um, try the Berry Cherry Pecan Steel-Cut Oatmeal; you shall not be disappointed) and freshly squeezed orange juice. (Wondering where I am in the photos? Just look for the palest one in the hat and shades. That'll always be me.)
And then, the 20-minute mini fitness classes began. Up first, was JAM, aka Juicy Athletic Moves led by Neda Soderqv, who is pretty much the coolest dancer ever. She trains Pink. Good thing our moves were super-star quality. I mean, just look at that bunch shakin' it.
Up next, we transformed into a Cirque du Soleil act for the fun CircEsteem class that teaches regular peeps like Cassey and I to do extraordinary things, in like five minutes. Amazing, right?
 But you ain't seen nothing yet. Check out this group pyramid—with fruit.
After our circus act, we got on all fours for a little Parkour action with Parkour Ways. Parkour is hard to master but fun to learn. We crawled around on these big rock ledges, jumped off of them and generally tried to evoke our inner silent ninja warrior. Mine is a touch louder than silent.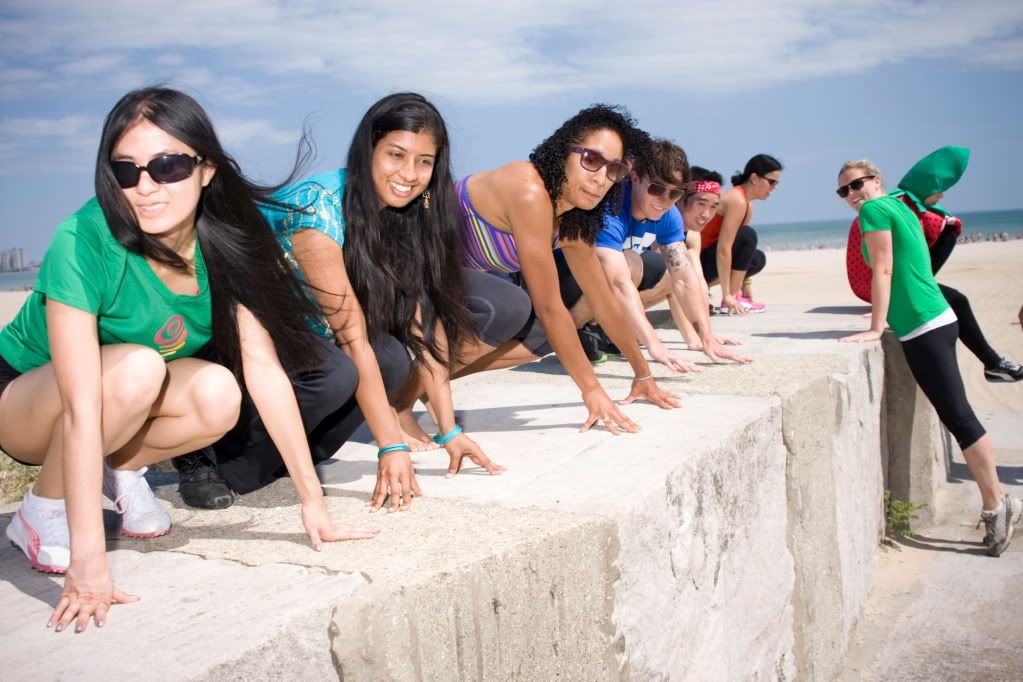 After Parkour, we had worked up quite the appetite/thirst (did I mention it was like 95 degrees and sunny?) and got a chance to try more Jamba deliciousness. Last week Tish mentioned being obsessed with the new Watermelon Splash Fruit Refresher, and now I'm proud to say I'm obsessed, too. If only they'd bring Jamba to my hometown of Kansas City! Chicago is a bit far to travel for a Jamba fix…although I wouldn't put it past me.
Once properly refreshed, Fitz and I set to kicking (or pulling) ass in the Caveman Workout with Core Fitness Chicago. We sledge-hammered (is that a real verb?) big tires, threw sandbags and were undisputed champions of the tug-of-war. (They apparently didn't know that after conquering the rope, I now am determine to whoop booty in all things involving ropes.)
Then, we got our Bollywood Dance on with Bollywood Groove. If you haven't tried Bollywood dancing yet, you must. It's SUCH a good time. Like Zumba, but with fun hands. Even Banana-Man likes it. 
After that, much to my pleasure, the ropes came out again. This time, we did Battle Ropes with Hustle Fitness. We paired up and then each took turns working the ropes in different ways—up and down, side to side, together like you're driving a chariot to victory. So. Much. Fun. This was probably my favorite workout of the day because I've always wanted to try it, and it was as fun and as hard as it looks!
Then, it was team challenge time. All the bloggers divided into two groups, and then each of us had to do a burpee followed by a left-right rope-slam, times five. I honestly don't remember if my team won, but we had a heck of a fun time doing it. So I'll count that as a victory.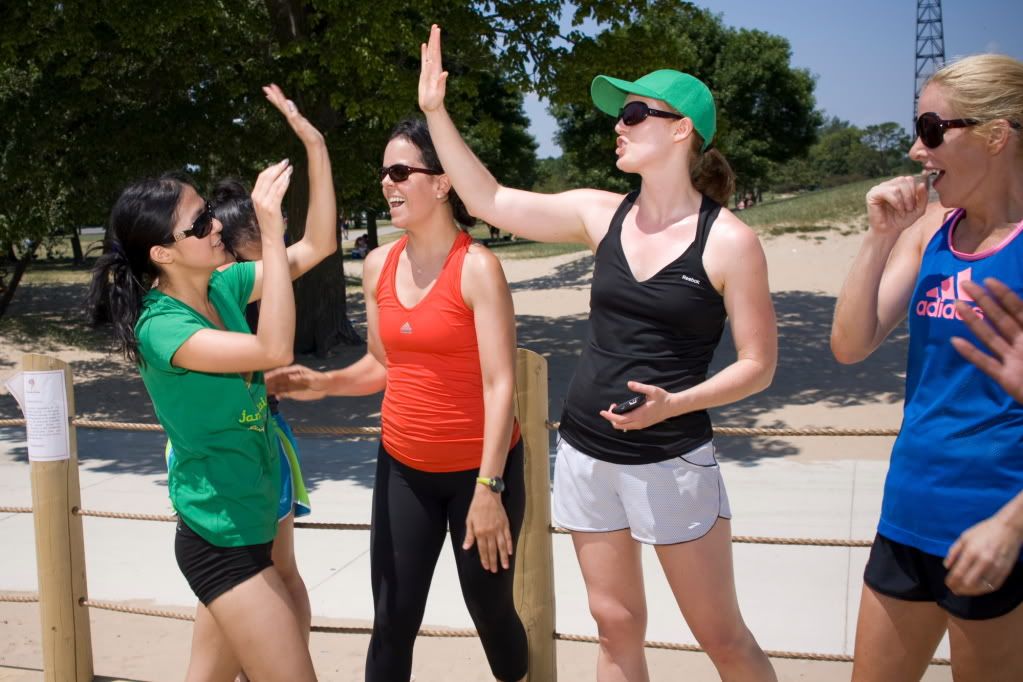 Yep, still going! Fitness class No. 7 of the day was Hula/Belly Dancing Fusion with the super entertaining Lee Na-Moo. Pretty sure I wasn't doing anything he was, but I was trying. Like hard. (See me looking at my belly? I guarantee you that I'm willing it to move like his.)
The final fitness class though was certainly a show-stopper. We got to do Paddle-Board Yoga with Kayak Chicago! I've heard so, so much about stand-up paddle boarding that I was pumped to try—and certainly ready to get in Lake Michigan to cool off. So we got life-jacketed up, got a quick lesson on how to survive on a paddle-board and got to it.
It was SUPER windy out, so we were all kind of all over the place, but I was able to paddle out, stand up for a bit, do down dogs and planks on my paddle-board, and then return to my knees to paddle back to shore. It was amazing how fast the wind and current moved us far out into the lake. Paddling back in seemed to take forever, and it was a serious arm, core and balance workout. Not to mention that it was beautiful. Being on the water was so peaceful, and we had a great shot of the downtown Chicago skyline.
I managed to not fall in the water once, until I was almost to shore and my beloved hat (aka pale-face protection) blew off. Of course I jumped in to get it. It felt awesome. In the photo below, you can see me with rescued hat, behind awesome paddle-board yoga girl. Note: I did not attempt a headstand on the board. Standing on my board and rescuing my hat was enough of a challenge for me.
After that, I grubbed lunch, flexed with Banana-Man (it's become a tradition), and flew on home.
Such a fun day! Have you ever tried any of the workouts I got to try for Jamba Juice? Which would you most like to try? Let's swap stories! —Jenn